Coby cotton dude perfect shirt
Imagine you're an average goblin, living your life in your goblin lair, an abandoned tomb long stripped of Coby cotton dude perfect shirt former occupants. You make a living scavenging scraps from around the local village, eating worms and squirrels and the occasional rat. You killed an intruder in your lair once, but he came into your house armed and looking for trouble. You took his crossbow and ill-fitting helm, which you keep in your lair because you never know when it will happen again. But what you really want to do is stay out of sight and live your life. Then one night, a bunch of people show up and wander right into your home! There's a dwarf, a human, a halfling, and a filthy, stinking elf! You grab your crossbow and your ill-fitting helm, and prepare to defend yourself again. Your first arrow buries itself in the dwarf's shield. You dodge the human's arrow, and the dwarf's hammer blow. You lose sight of the halfling, while the disgusting elf blasts you in the chest with a bolt of what looks like white fire, which seemed to emanate from the cursed holy symbol around its ugly, misshapen neck. It burns and stings, and reeks of rotten elf magic.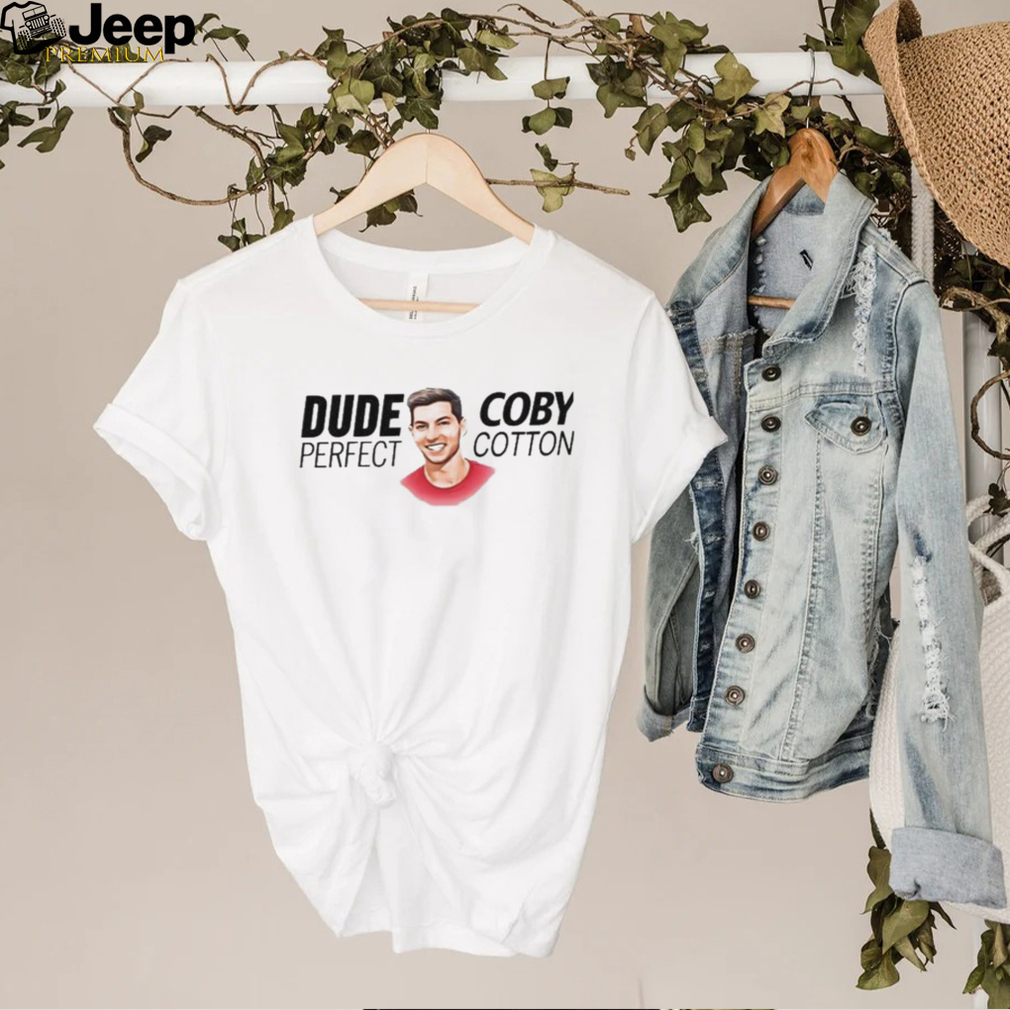 (Coby cotton dude perfect shirt)
Tasha's Cauldron of Everything is a good "Second wave supplement" for D&D 5e. When I say "second wave supplement", in my experience of RPGs in general the Coby cotton dude perfect shirt wave of supplements (such as Xanathar's Guide to Everything) are full of ideas that the designers had that, for whatever reason, did not make the cut. Some for complexity, some for weirdness, and some because they were just plain bad. Second wave supplements are generally much more interesting because they are made with those ideas cleared out and made with much more reflection as to what went right and wrong and what people are doing anyway.
Coby cotton dude perfect shirt, Hoodie, Sweater, Vneck, Unisex and T-shirt
Best Coby cotton dude perfect shirt
Playing them as arrogant slavers is the Coby cotton dude perfect shirt  way it's done, and that's fine, but I think it misses the main point. Mind Flayers should be more like villains out of Doctor Who than they should be out of Tolkien, and the Doctor rarely wins battles by dint of arms. They are the ultimate masters of mental abilities, able to paralyze, enslave, or even kill with their thoughts alone. It's a rare character indeed who can counter or match their mental powers. A great way to establish that alien quality is to make mind flayers completely incapable of speech. Have the mind flayers communicate via images only, projected directly into one's mind. If push comes to shove, have them talk haltingly through a person like in Independence Day when the alien is squeezing the life out of Brent Spiner's body, except the Mind Flayer has its face tentacles literally in the victim's skull when doing this. Terrifying!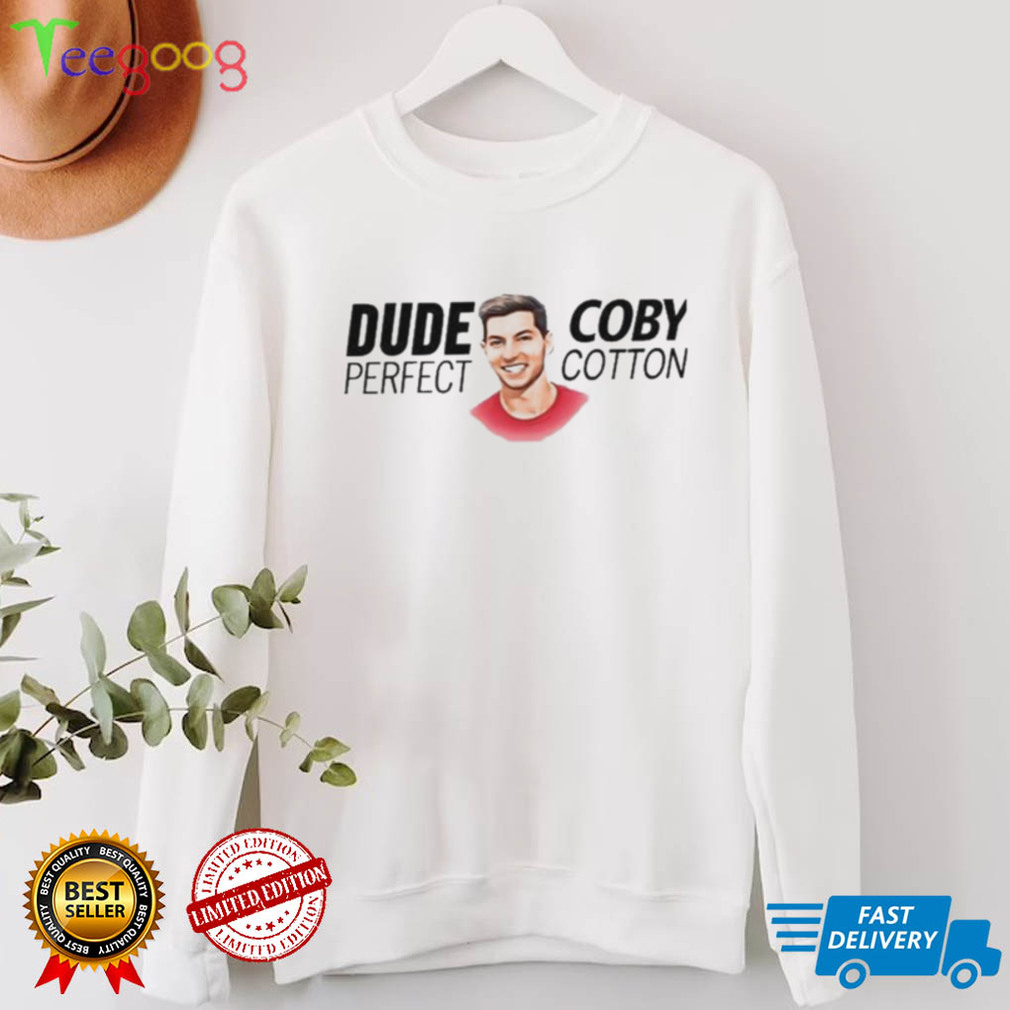 (Coby cotton dude perfect shirt)
I own several Ringo albums and singles. I really do love his voice. His lack of a Coby cotton dude perfect shirt doesn't bother me because he sounds great just where is range is. But that does limit the material he can do. I always thought he would have had more success if he did more recordings like Beaucoups of Blues. His voice is best suited for country music. Plus he loves country music! (Probably not current country music, though!) The thing is, without the Beatles, I wouldn't have had much of an introduction to him. I grew up in the '70s when Beatles music was a bit retro, and not on my radio stations all that often. That was the only exposure I had to the Beatles, until John's assassination in 1980. That sadly is what really led me to get to know the group. Now, with no Beatles, I assume Ringo's solo time in the spotlight would have still been the '60s and '70s. So my only exposure to him would have been as a child in the '70s. I wasn't much of a record buyer then. And by the early '90s, I'd completely shut down to music. So I would have grown up largely not knowing Ringo at all. But my husband did, and by extension so did I, play almost exclusively Johnny Cash, Eagles, Fleetwood Mac, Bowie, and Beatles as our girls were growing up from 2007ish on. No stupid nursery rhymes for my girls!