Frank and the Frankettes S3 logo shirt
However, the condition cannot be "the Frank and the Frankettes S3 logo shirt of the round", although you could tie it to another creature (1st to act in the next round) starting to move, for instance. In addition, your movement and a possible bonus action is part of your turn, not your action, so the ready action cannot be used to move (except to take the dash action) or to perform a bonus action. Finally, if using a spell, it can only be a 1 action spell, and holding it requires concentration. Which means you cannot be using another concentration spell. In addition, you also use your spell slot when you take the ready action. If you lose concentration or do not use it (abandon it for doing some other action).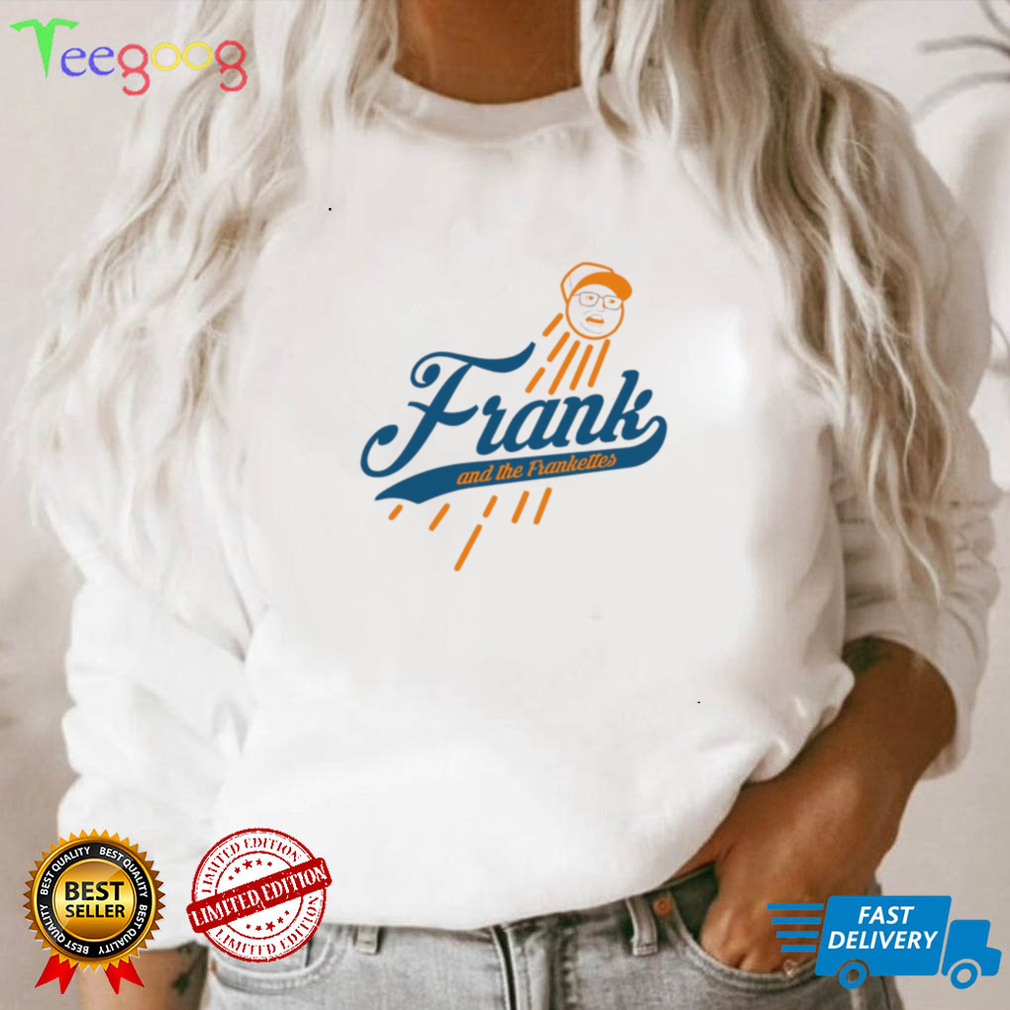 (Frank and the Frankettes S3 logo shirt)
That concludes a "story arc" then you spend another 10 hours or so prepping the Frank and the Frankettes S3 logo shirt arc, doing the same process but upping the stakes this time, re-using NPCs that survived, and building off how the players resolved the previous story arc. I am now introducing a neighboring kingdom that is at war with their barony. They will now be tested in full warfare against an enemy state. That's how the next arc in the campaign is developing. Eventually I'll bring in demons and extra planar nonsense when they hit the higher levels. But I'll worry about that when we get there.
Frank and the Frankettes S3 logo shirt, Hoodie, Sweater, Vneck, Unisex and T-shirt
Best Frank and the Frankettes S3 logo shirt
Back in the day, one of my first DM's told me a Lawful Evil person has ethics. I'm like, whatever does that mean? Generally, evil and ethics don't appear in the Frank and the Frankettes S3 logo shirt together. Well, as we study alignments, it turns out that Lawful Evil creatures do go by a code of ethics of sort. You might say "they keep their word." That's a big one. "I give you my word!" That would be a big deal if it's true. You could trust someone like that.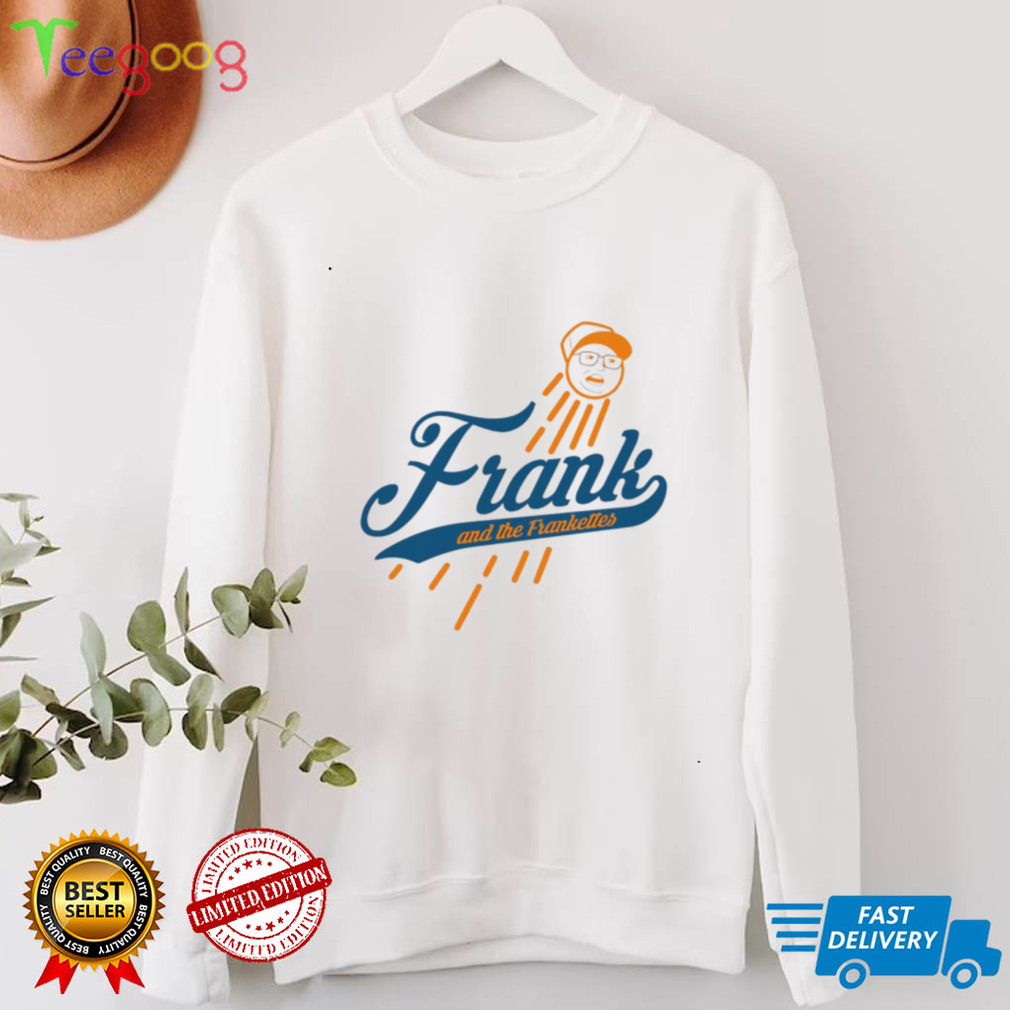 (Frank and the Frankettes S3 logo shirt)
Entertainment: Dickson street is great, lots of Frank and the Frankettes S3 logo shirt and good food. There is the Walton Arts Center which has top notch broadway events (musicals, plays, etc). TheatreSquared is also excellent for watching plays. The AMP (Arkansas Music Pavilion) has well known bands/artists every year. There is a Botanical Gardens. Believe it or not, we still have a drive-in theatre which plays current movies and is lots of fun. There is also a retro-arcade, bowling, skating rink, Locomotion (go karts, arcade, mini-golf), Gater Golf (mini-golf), several area Golf courses that are very nice, museums, and lots more. Outdoors: We are right next to the Ozark National Forrest, Beaver Lake, the Buffalo River, White River, Mulberry River, Devil's Den state park, the Ozark Highlands Trail (218 miles through seven counties), caving, rock climbing, hand gliding, scuba diving in Beaver lake, and countless more to do. There is an excellent paved trail system that stretches from south of Fayetteville to the Missouri border with lots of parks and side trails along the way. Everywhere you turn there is hiking, biking, canoeing, geocaching, etc. Enough to never be bored. Community: Excellent Farmer's Market, lots of community outreach programs, excellent public schools and some great private ones also (or so I've heard) Events: We also have lots of events in our area: Bikes Blues & BBQ, Joe Martin Stage Race, First Thursday (every first Thursday downtown), Fayetteville Foam Fest (Local Breweries, Food Trucks, Lots of Beer), War Eagle Crafts Fair, Block Street Block Party, NWA Naturals baseball games, Tri Sport Kid's Triathlon, Fayetteville Roots Festival, Lights of the Ozarks, Ozark Valley Triathlon, Halloween Monster Dash, Color Vibe 5K Run, Primal Challenge.