I got my corncobbed at the Iowa state fair shirt
As someone who usually doesn't get gifts and has a hard time getting and I got my corncobbed at the Iowa state fair shirt receiving them and finding what I want, it helps when there's is secret santa stuff. So I helped out by participating and got picked to give a gift to this nice girl I knew. On the day of gift giving, as it was a surprise, I tapped her on the shoulder as she turned around, putting the gift in her hand in a smooth motion. It was one of the things on her wish list. Stunned in a good way, she said "thank you!" After saying my name. A minute later, a person I didn't know as well, gave me a gift. I've never really celebrated it outside my family, and didn't think I would get one. It was neat, and a very nice surprise, as we didn't associate much with each other. I thanked her, and then again more than twenty minutes later as class ended. But the kicker: it was lunch time, and I was going to the bathroom, as per usual. Then this other person I know, a lot better, and am better pals with but don't always get to hang out, but find much in common, called me over. I waited patiently to see what it was all about. We never really hung out at lunch, and last time she had asked me a question, so I had answered her. Our relationship wasn't bad.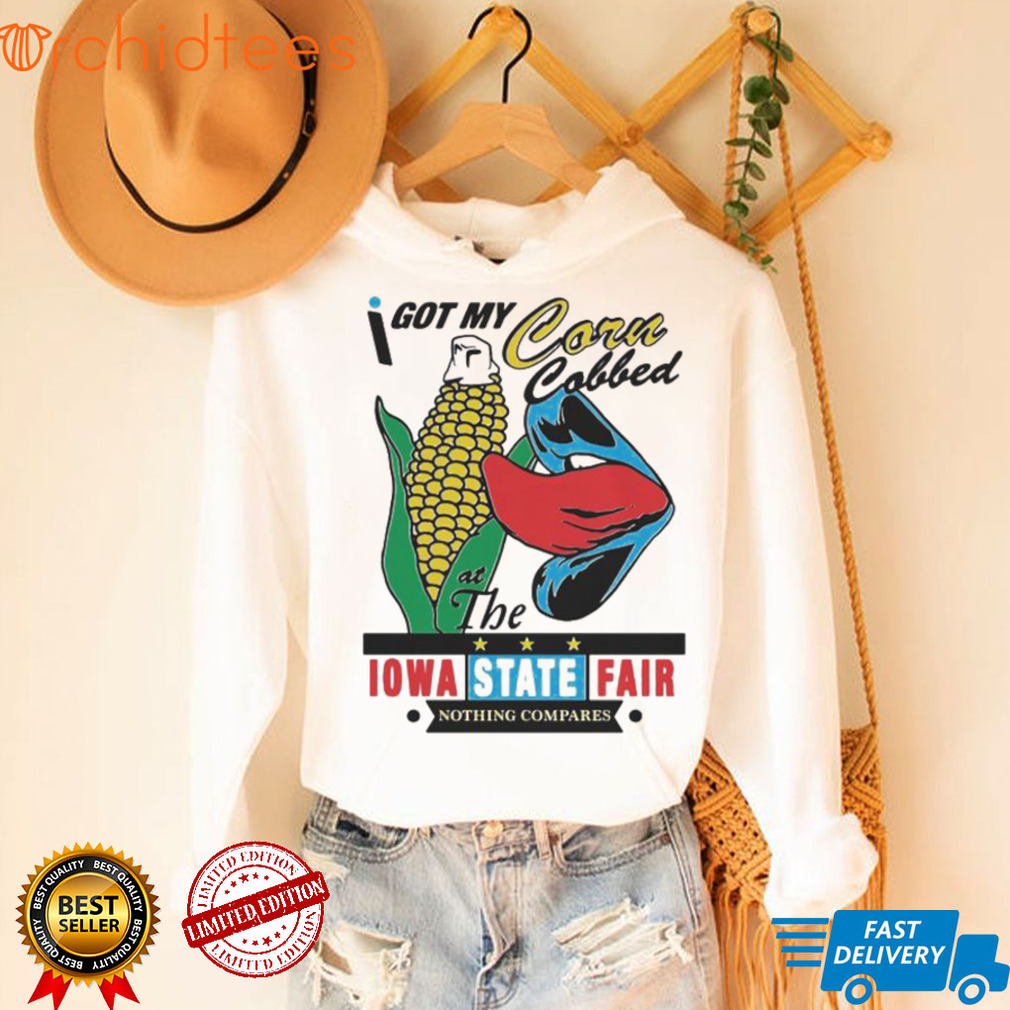 (I got my corncobbed at the Iowa state fair shirt)
Geography. Pick the local team. If you are in say Miami, congratulations you can be a Dolphins fan and if you want to support teams across several levels, then the Dolphins for the NFL, Miami Hurricane among the power college programs and Florida International Panthers in the so-called Group of 5. If you are in an area not near an NFL team pick a I got my corncobbed at the Iowa state fair shirt college and could even find enjoyment following a small regional team that plays in Division II or III or Division I FCS.
I got my corncobbed at the Iowa state fair shirt, Hoodie, Sweater, Vneck, Unisex and T-shirt
Best I got my corncobbed at the Iowa state fair shirt
Entertainment: Dickson street is great, lots of I got my corncobbed at the Iowa state fair shirt and good food. There is the Walton Arts Center which has top notch broadway events (musicals, plays, etc). TheatreSquared is also excellent for watching plays. The AMP (Arkansas Music Pavilion) has well known bands/artists every year. There is a Botanical Gardens. Believe it or not, we still have a drive-in theatre which plays current movies and is lots of fun. There is also a retro-arcade, bowling, skating rink, Locomotion (go karts, arcade, mini-golf), Gater Golf (mini-golf), several area Golf courses that are very nice, museums, and lots more. Outdoors: We are right next to the Ozark National Forrest, Beaver Lake, the Buffalo River, White River, Mulberry River, Devil's Den state park, the Ozark Highlands Trail (218 miles through seven counties), caving, rock climbing, hand gliding, scuba diving in Beaver lake, and countless more to do. There is an excellent paved trail system that stretches from south of Fayetteville to the Missouri border with lots of parks and side trails along the way. Everywhere you turn there is hiking, biking, canoeing, geocaching, etc. Enough to never be bored. Community: Excellent Farmer's Market, lots of community outreach programs, excellent public schools and some great private ones also (or so I've heard) Events: We also have lots of events in our area: Bikes Blues & BBQ, Joe Martin Stage Race, First Thursday (every first Thursday downtown), Fayetteville Foam Fest (Local Breweries, Food Trucks, Lots of Beer), War Eagle Crafts Fair, Block Street Block Party, NWA Naturals baseball games, Tri Sport Kid's Triathlon, Fayetteville Roots Festival, Lights of the Ozarks, Ozark Valley Triathlon, Halloween Monster Dash, Color Vibe 5K Run, Primal Challenge.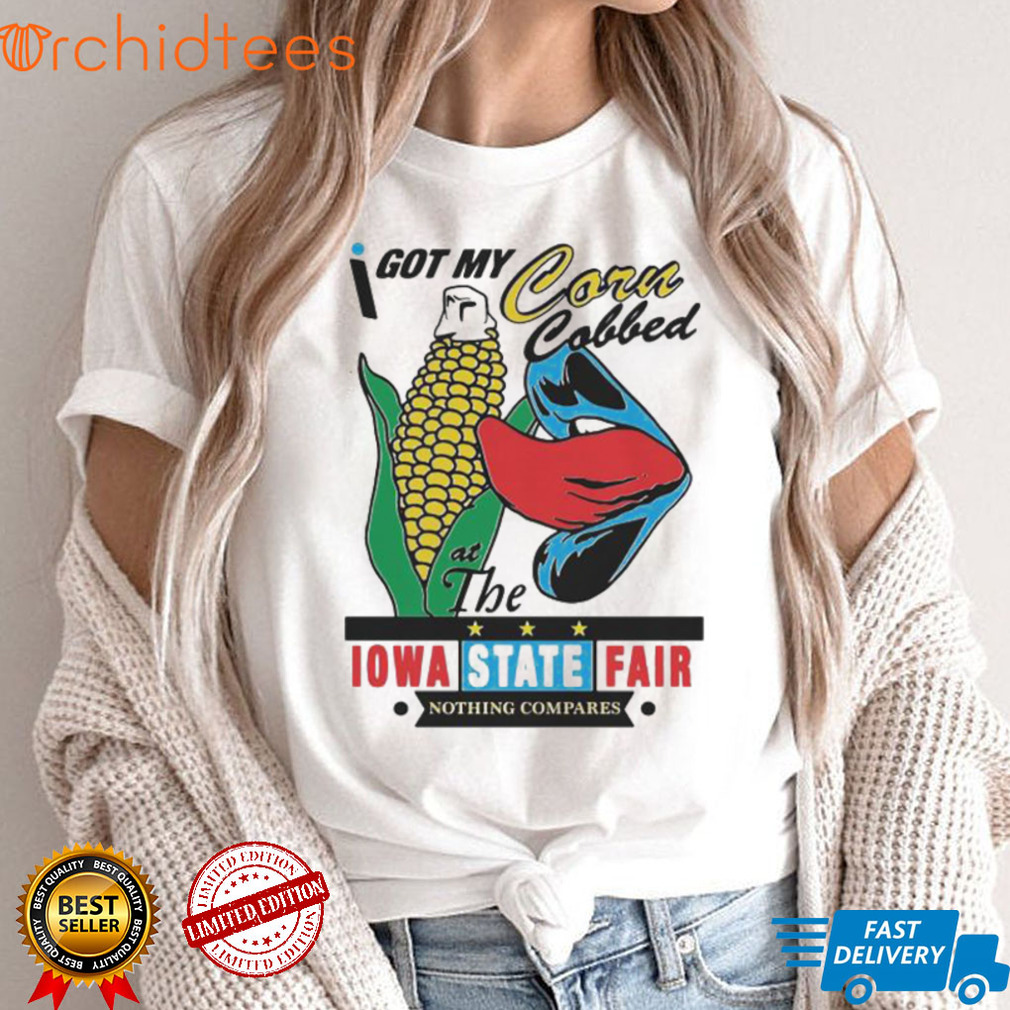 (I got my corncobbed at the Iowa state fair shirt)
No! It's much too early for I got my corncobbed at the Iowa state fair shirt . I want to enjoy this fall (although it seems that fall has decided not to visit us this year) and each holiday as it comes. One year, ages ago, I put up the Christmas tree on Thanksgiving weekend and by the time Christmas came around, all the decorations were dusty and I was sick of looking at it..lol. That was a good lesson. Christmas, for me, is sparkling snow, pine trees (not maples turning gold and red) and a very special time, especially if you have family (cherish them because some day they will be gone). It's a time of selflessness and love and that "Christmas spirit" which is incredible which takes hold of you.