I posted this question a few days ago with a specific purpose. I was hoping to show all your answers to Maedy  on Christmas morning, as she really loves Christmas decorations, but sadly is unable to spend as much time and effort on them these days as she always used to do. And it all went according to plan! We read every word of every answer from all around the world, and looked at all the I Love My Veteran Shirt s. A truly wonderful start to the morning, before we moved on to presents… more of that later!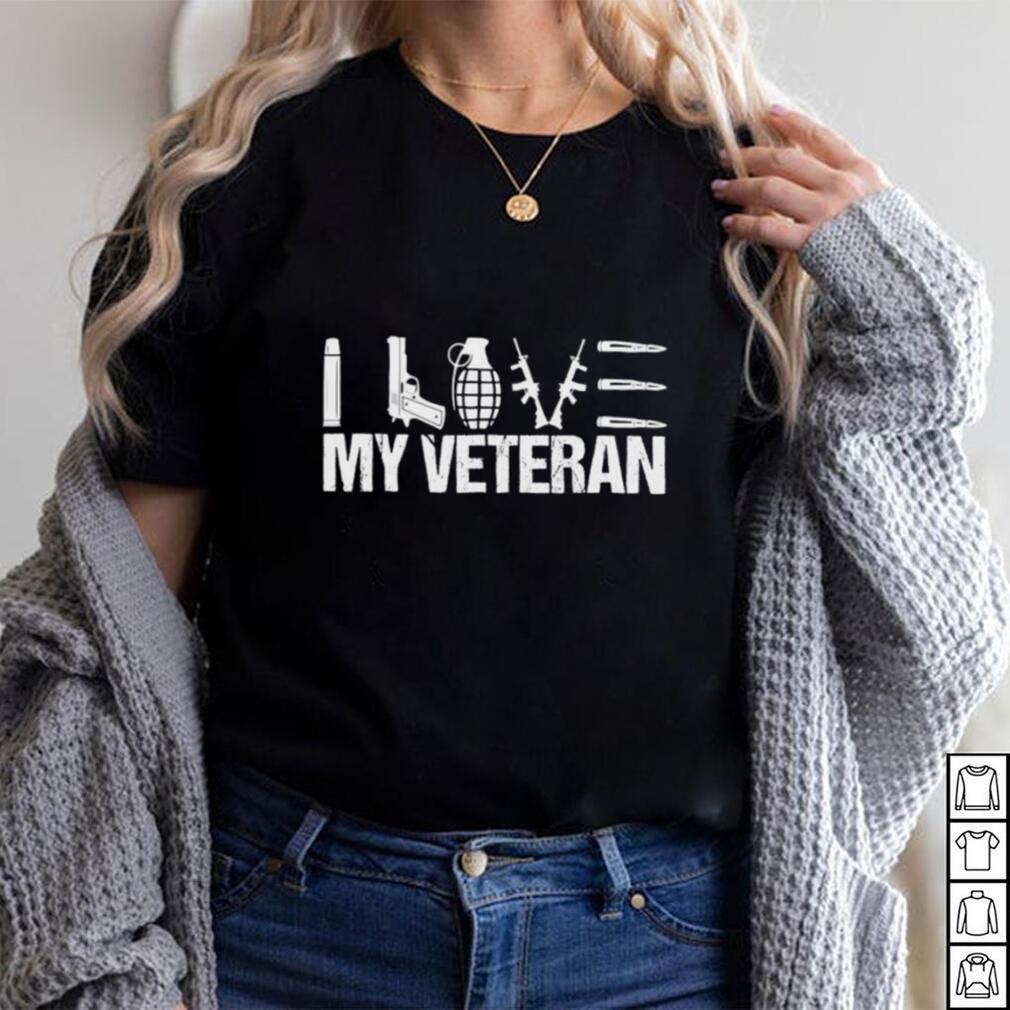 (I Love My Veteran Shirt, Hoodie, Sweater, Vneck, Unisex and T-shirt)
First, I am a Christian (not a very good one, but…) and Christmas is the Mass of Christ – the day when Christians celebrate that God so loved the world that he gave His only begotten Son, that whosoever believeth in him should not perish, but have everlasting life. It's the moment when God became human, to bring humans closer to God. Second, I'm English, which means I live on a chunk of rock in the North Atlantic where, from the end of November to the end of I Love My Veteran Shirt , it is cold and wet and dark most of the time. In the depths of that winter, it is good for the psyche to throw a big, long party, with food and booze and fun and gifts given to those we love and those in need. It's a gigantic two-fingers-up to the darkness.
I Love My Veteran Shirt, Hoodie, Sweater, Vneck, Unisex and T-shirt
In North America, people equate Christmas with rushing around in crowded stores looking for that "perfect gift" for someone they feel deserves it. Then there's the gifts you have to come up with for the others. Then there's decorating, parties you want to attend, and parties you HAVE to attend. If you think about it, despite what the retailers do, Christmas comes and goes in 10 days (I'm being generous despite the songs). Did I mention Christmas cards and letters? Some people for whatever reason(s) have come to hate it. I'm the opposite, I've come to love it. Greeting family, friends, anyone, with a smile and the I Love My Veteran Shirt greetings: happy (Diwali,Hanukkah, Christmas, fiscal year, Joyeux Noel, etc). It's all my wife's fault…biggest Christmas Kid on the block, and I have the receipts and bills to prove it. There's the "flip side" too. Family and friends are far away or gone forever, and that's a tough one to remember and live through.
Best I Love My Veteran Shirt
It's possible to appreciate religious stories and traditions without believing that they are true. I am certainly an atheist; my beliefs are defined strictly by what I see as the I Love My Veteran Shirt consensus and my own reasoning. I do not prima facie respect the claims of any religion. However, there is a vast gulf between not believing and not valuing. Stories are psychologically powerful, and any story that has been passed down for thousands of years is likely to be worth thinking about. There are many stories in the Bible I loathe and despise, but there are also many compelling and beautiful ones. And that psychological power inspires art, music and traditions that can transcend any ordinary experience.
Christmas is a annual festival of the Christians celebrated on 25th December every year. The festival is to commemorate the birth of Jesus Christ. It started being celebrated according to records in 336 AD in Rome. Deep Himalayas thrives in the happiness and satisfaction of the guests but also sees that the person staying gets the best experience of their lives. One who is looking for a scenic beauty the hotel comes with an orchid inside the faculty. For religious people, there is a temple inside the facility. Someone looking for seeing various animals that can be found in the hills there is the jungle walk and I Love My Veteran Shirt  watching and one looking for adventurous sports there is sports faculty available.