IF YOU RUN YOU WILL ONLY DIE TIRED SHIRT
You're hurt, but you've still got a lot of IF YOU RUN YOU WILL ONLY DIE TIRED SHIRT in you. You are, after all, protecting your home from these invaders. You take aim with your crossbow again, and nail the human in the shoulder. It's a great shot; he'll be unable to lift his arm now, much less draw his bow. You dodge the dwarf again, and you still can't locate the halfling, but then the stupid, annoying elf starts chanting in some obnoxious elf language, and suddenly your well-aimed crossbow bolt magically removes itself from the human's shoulder, and the wound closes! See, this is why you've always hated elves. You know when you're outmatched, so you turn and run for your secret exit, but as you round the corner, the halfling is suddenly there, and surprises you with a dagger in the ribs. The last thing you see is her little halfling face hanging above you, smiling under a dark gray hood as your breath bubbles with blood in your chest. Your eyes close, and you hear the stupid elf chanting again. Then nothing.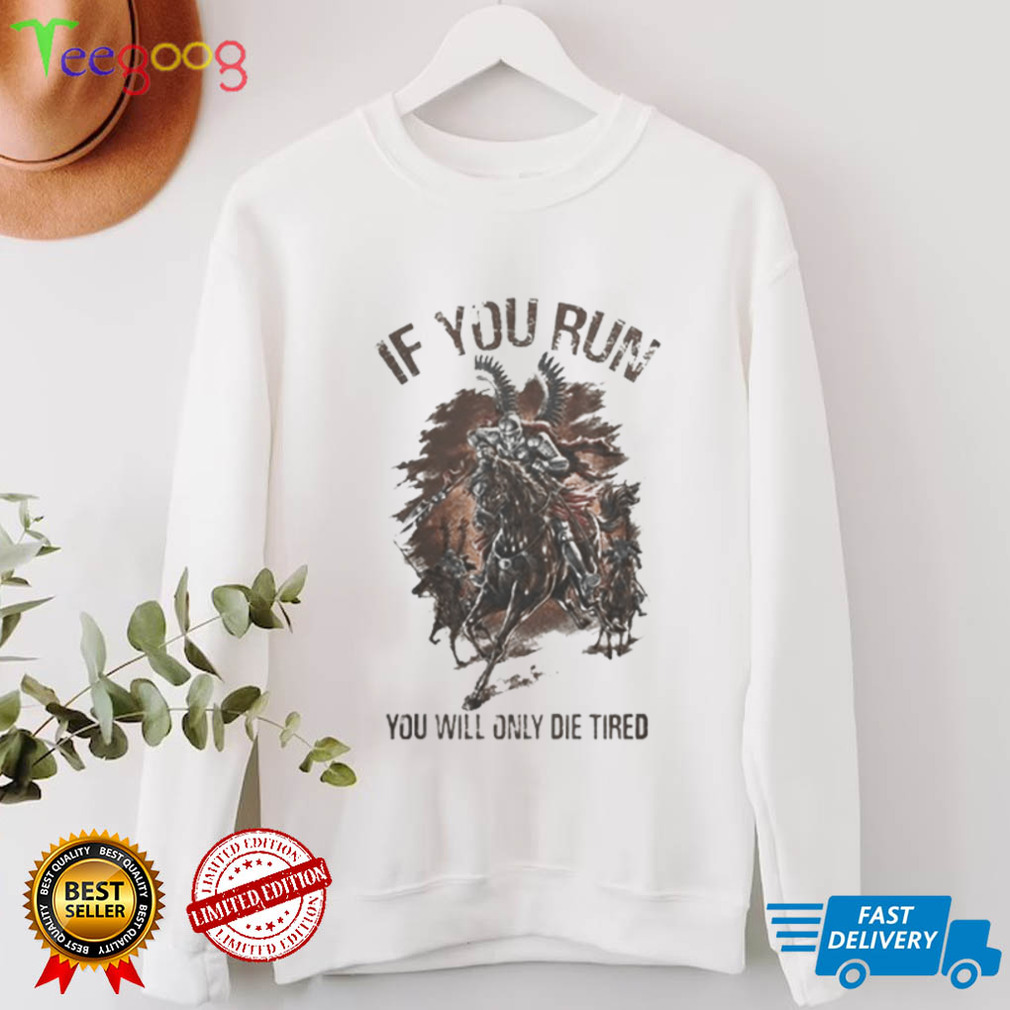 (IF YOU RUN YOU WILL ONLY DIE TIRED SHIRT)
A lot of the complaints new DMs have is how the players derailed their campaigns and all the IF YOU RUN YOU WILL ONLY DIE TIRED SHIRT work they did. This makes them want to run the next sessions more on rails so their work doesn't get wasted. This is a mistake and frankly a no-no for any DM. Never get too attached to your scenario and always be prepared to roll with whatever the players are trying to do. Be fair about it. I let the dice decide if their antics and shenanigans work or not, all within reason. Many times my players attempt tricks to avoid combat or make thing easier, but if the roll goes badly or their reasoning wasn't good enough for me I let them crash and burn. Yet there are times when I even let them have a free dragon kill because their argument was convincing and they rolled good enough.
IF YOU RUN YOU WILL ONLY DIE TIRED SHIRT, Hoodie, Sweater, Vneck, Unisex and T-shirt
Best IF YOU RUN YOU WILL ONLY DIE TIRED SHIRT
Make your NPCs useful. Skalacon is very useful because he is, in a IF YOU RUN YOU WILL ONLY DIE TIRED SHIRT , a benefactor to the player characters. Being the Curator of Magic, he buys magic items from the players — he gives them money or gems in exchange. He trades magic items with them. One item the players decided to part with, won them a small stone keep just outside of town. The players earned a home of their own. Thank you, Skalacon. Now, let's count them up: he is powerful, has status, and it's beneficial to remain friends for his arcane dealings. That's 3 things to his credit. I don't have to worry about Skalacon getting beaten or killed by player character murder hobos. See?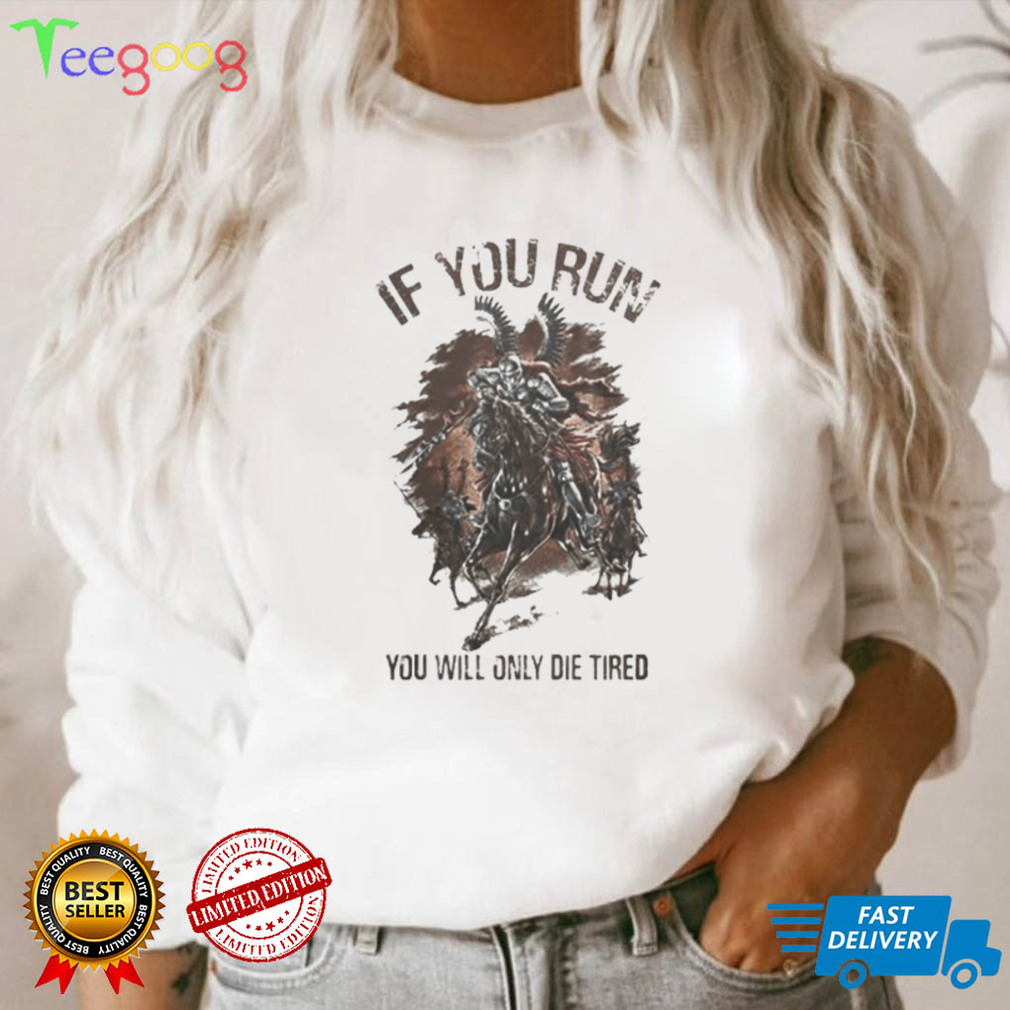 (IF YOU RUN YOU WILL ONLY DIE TIRED SHIRT)
Entertainment: Dickson street is great, lots of IF YOU RUN YOU WILL ONLY DIE TIRED SHIRT and good food. There is the Walton Arts Center which has top notch broadway events (musicals, plays, etc). TheatreSquared is also excellent for watching plays. The AMP (Arkansas Music Pavilion) has well known bands/artists every year. There is a Botanical Gardens. Believe it or not, we still have a drive-in theatre which plays current movies and is lots of fun. There is also a retro-arcade, bowling, skating rink, Locomotion (go karts, arcade, mini-golf), Gater Golf (mini-golf), several area Golf courses that are very nice, museums, and lots more. Outdoors: We are right next to the Ozark National Forrest, Beaver Lake, the Buffalo River, White River, Mulberry River, Devil's Den state park, the Ozark Highlands Trail (218 miles through seven counties), caving, rock climbing, hand gliding, scuba diving in Beaver lake, and countless more to do. There is an excellent paved trail system that stretches from south of Fayetteville to the Missouri border with lots of parks and side trails along the way. Everywhere you turn there is hiking, biking, canoeing, geocaching, etc. Enough to never be bored. Community: Excellent Farmer's Market, lots of community outreach programs, excellent public schools and some great private ones also (or so I've heard) Events: We also have lots of events in our area: Bikes Blues & BBQ, Joe Martin Stage Race, First Thursday (every first Thursday downtown), Fayetteville Foam Fest (Local Breweries, Food Trucks, Lots of Beer), War Eagle Crafts Fair, Block Street Block Party, NWA Naturals baseball games, Tri Sport Kid's Triathlon, Fayetteville Roots Festival, Lights of the Ozarks, Ozark Valley Triathlon, Halloween Monster Dash, Color Vibe 5K Run, Primal Challenge.