Long story short, this druid had spent hundreds of I'm Your Daddy Shirt learning how to magically influence a creature in such a way that bypasses charm immunity, and used this ability to coax the tarrasque into attacking locations of her choosing. So, the tarrasque wasn't the boss, the druid was. The goal was to either recruit other metallic dragons to distract the tarrasque while the party took on the druid, or break her hold on it somehow. Mind you, this wasn't the idiotic 5th edition tarrasque that is nothing more than a bag of hit points. I borrowed the real tarrasque rules, where it cannot actually be killed without at least one wish spell. If I hadn't, the party could handily have killed it themselves. To me, the tarrasque should never be a "boss" per se. It has no evil plans and is unpredictable. It just shows up sometimes and fucks shit up, then leaves. If a party faces one, the goal should never be to outright defeat it, but rather just make it go away. "Kill the big monster" isn't a very interesting story. However, if the tarrasque is just a tool in the villain's toolbox, then you have some story potential. That's what I tried to do.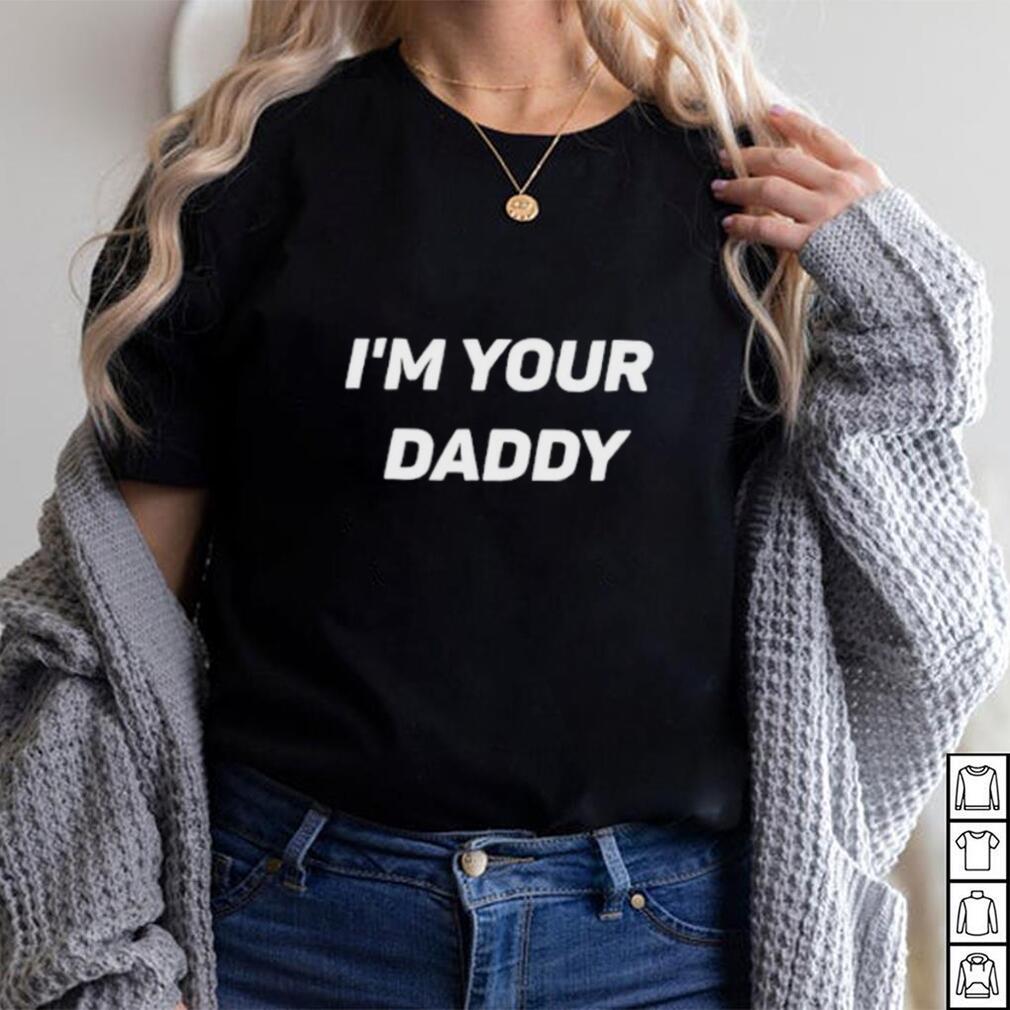 (I'm Your Daddy Shirt)
Ancestry is the I'm Your Daddy Shirt for Races, and it's called such owing to the fact that it's more loose and customizeable. You get your ability score drawbacks and boosts, maybe low-light vision or darkvision, and maybe one or two other features, but then you have A) a Heritage, which is kind of like a sub-race; and B) a grab-bag of Ancestry Feats which you can use to tweak what you get out of the Ancestry you picked. In essence, Paizo made racial substitution abilities from 1st edition more of a baseline standard instead of making you jump through a bunch of hacky hoops in order to use it.
I'm Your Daddy Shirt, Hoodie, Sweater, Vneck, Unisex and T-shirt
Best I'm Your Daddy Shirt
Now, it might seem obvious that, with a I'm Your Daddy Shirt like GoF where sad and scary dark things happen at every turn, that I would easily choose a scene like Cedric's death or Mr. Diggory's reaction to his son's death. But, honestly, as tragic as those moments are, there were two other scenes (in the books specifically) that "broke me" more than any others. "As Harry pulled on his pajamas, he looked over at Neville's bed. True to his word to Dumbledore, he had not told Ron and Hermione about Neville's parents. As Harry took off his glasses and climbed into his four-poster, he imagined how it must feel to have parents still living but unable to recognize you. He often got sympathy from strangers for being an orphan, but as he listened to Neville's snores, he thought that Neville deserved it more than he did." – Harry Potter and the Goblet of Fire
(I'm Your Daddy Shirt)
Entertainment: Dickson street is great, lots of I'm Your Daddy Shirt and good food. There is the Walton Arts Center which has top notch broadway events (musicals, plays, etc). TheatreSquared is also excellent for watching plays. The AMP (Arkansas Music Pavilion) has well known bands/artists every year. There is a Botanical Gardens. Believe it or not, we still have a drive-in theatre which plays current movies and is lots of fun. There is also a retro-arcade, bowling, skating rink, Locomotion (go karts, arcade, mini-golf), Gater Golf (mini-golf), several area Golf courses that are very nice, museums, and lots more. Outdoors: We are right next to the Ozark National Forrest, Beaver Lake, the Buffalo River, White River, Mulberry River, Devil's Den state park, the Ozark Highlands Trail (218 miles through seven counties), caving, rock climbing, hand gliding, scuba diving in Beaver lake, and countless more to do. There is an excellent paved trail system that stretches from south of Fayetteville to the Missouri border with lots of parks and side trails along the way. Everywhere you turn there is hiking, biking, canoeing, geocaching, etc. Enough to never be bored. Community: Excellent Farmer's Market, lots of community outreach programs, excellent public schools and some great private ones also (or so I've heard) Events: We also have lots of events in our area: Bikes Blues & BBQ, Joe Martin Stage Race, First Thursday (every first Thursday downtown), Fayetteville Foam Fest (Local Breweries, Food Trucks, Lots of Beer), War Eagle Crafts Fair, Block Street Block Party, NWA Naturals baseball games, Tri Sport Kid's Triathlon, Fayetteville Roots Festival, Lights of the Ozarks, Ozark Valley Triathlon, Halloween Monster Dash, Color Vibe 5K Run, Primal Challenge.