Imagine you're an average goblin, living your life in your goblin lair, an abandoned tomb long stripped of Mormon Energy Shirt former occupants. You make a living scavenging scraps from around the local village, eating worms and squirrels and the occasional rat. You killed an intruder in your lair once, but he came into your house armed and looking for trouble. You took his crossbow and ill-fitting helm, which you keep in your lair because you never know when it will happen again. But what you really want to do is stay out of sight and live your life. Then one night, a bunch of people show up and wander right into your home! There's a dwarf, a human, a halfling, and a filthy, stinking elf! You grab your crossbow and your ill-fitting helm, and prepare to defend yourself again. Your first arrow buries itself in the dwarf's shield. You dodge the human's arrow, and the dwarf's hammer blow. You lose sight of the halfling, while the disgusting elf blasts you in the chest with a bolt of what looks like white fire, which seemed to emanate from the cursed holy symbol around its ugly, misshapen neck. It burns and stings, and reeks of rotten elf magic.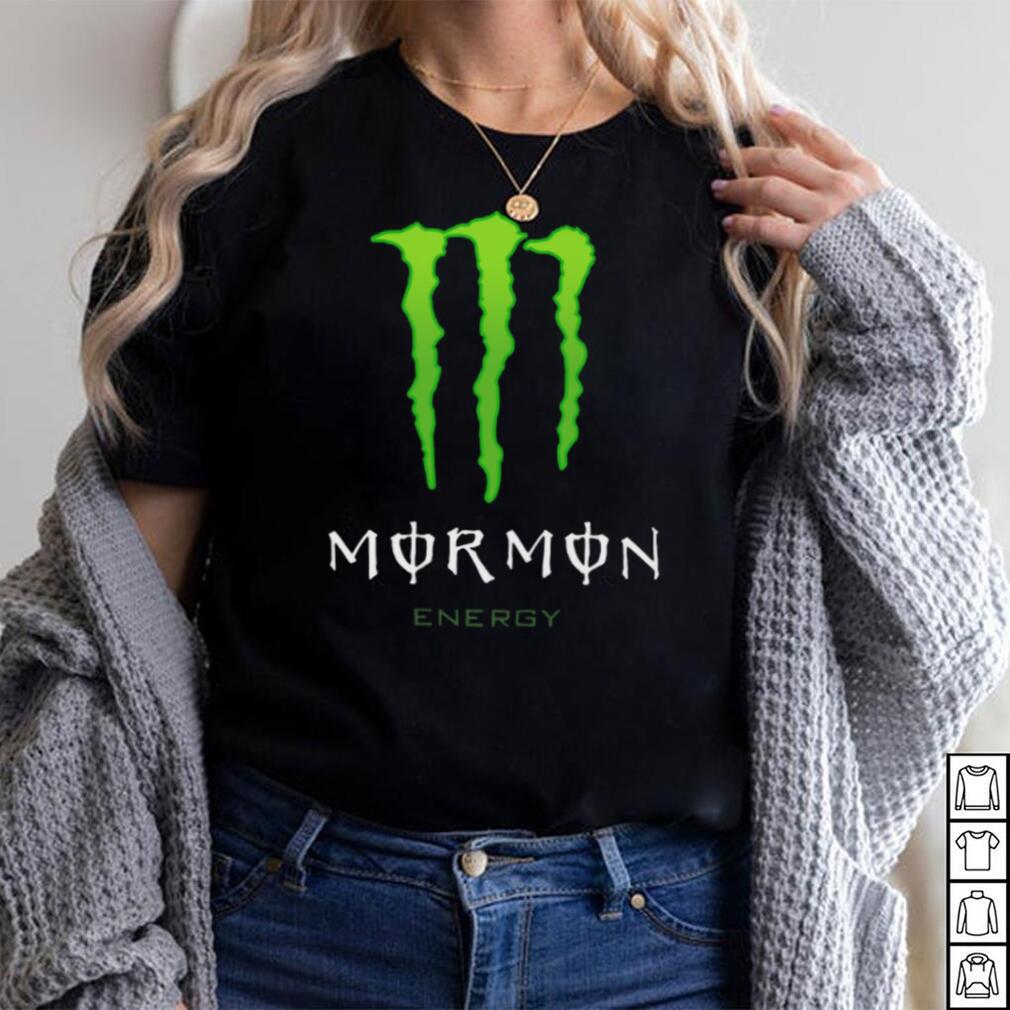 (Mormon Energy Shirt)
That concludes a "story arc" then you spend another 10 hours or so prepping the Mormon Energy Shirt arc, doing the same process but upping the stakes this time, re-using NPCs that survived, and building off how the players resolved the previous story arc. I am now introducing a neighboring kingdom that is at war with their barony. They will now be tested in full warfare against an enemy state. That's how the next arc in the campaign is developing. Eventually I'll bring in demons and extra planar nonsense when they hit the higher levels. But I'll worry about that when we get there.
Mormon Energy Shirt, Hoodie, Sweater, Vneck, Unisex and T-shirt
Best Mormon Energy Shirt
Now, it might seem obvious that, with a Mormon Energy Shirt like GoF where sad and scary dark things happen at every turn, that I would easily choose a scene like Cedric's death or Mr. Diggory's reaction to his son's death. But, honestly, as tragic as those moments are, there were two other scenes (in the books specifically) that "broke me" more than any others. "As Harry pulled on his pajamas, he looked over at Neville's bed. True to his word to Dumbledore, he had not told Ron and Hermione about Neville's parents. As Harry took off his glasses and climbed into his four-poster, he imagined how it must feel to have parents still living but unable to recognize you. He often got sympathy from strangers for being an orphan, but as he listened to Neville's snores, he thought that Neville deserved it more than he did." – Harry Potter and the Goblet of Fire
(Mormon Energy Shirt)
The conspiracy theories that people make fun of are the Mormon Energy Shirt. Like faking the moon landings. Do you have any ideas what that would involves? You would need to film it on a sound stage, which is easy. But you also need to fake the rocket launch. You need to build the rocket, send it into space, bring the capsule back down. All without actually going to the moon. And all while the Soviet Union is watching eagle eyes, waiting for any mistake. And that's not to mention the Apollo retro-reflectors, whose presence has been independently confirmed by observatories around the world. Faking just that part would be harder then the entire moon landing. But faking a moon landing at least has a motive. You want to win the space race. But who would want to convince everyone that the world is round instead of a flat? There's no motive. And this is a conspiracy that would be impossible to carry out. Every scientist is lying? The entire GPS system is being faked? The Antarctic expeditions are all faked? Every airplane company is part of the conspiracy? They all have rounded windows to create the illusion of the curvature of the Earth?