We love life on both sides of the womb shirt
My Bichon Frise died last year at 14 1/2. I adopted him when he was 7 weeks old. He was a very independent dog. I don't know whether this was something I taught him or just his personality. From a We love life on both sides of the womb shirt, I trained him and socialized him well. I gave him the full run of the house when he was 2 months old and did very well up until he passed away. Whenever I had to leave (for work, errands, etc), I made sure it was a 'non-event' for him so he wouldn't suffer from separation anxiety. I also left the TV on for him to a cartoon channel. Every time I walked out the door, I calmly said "I love you. I'll be back. Be a good boy'. The first 2 years of his life, I went home (from work) at lunch time to feed him and take him for a walk. A few times, I walked in with him in front of the TV watching 'Caillou'. Otherwise, he would sleep by the door leading to the garage, waiting for my return or whichever door I left from.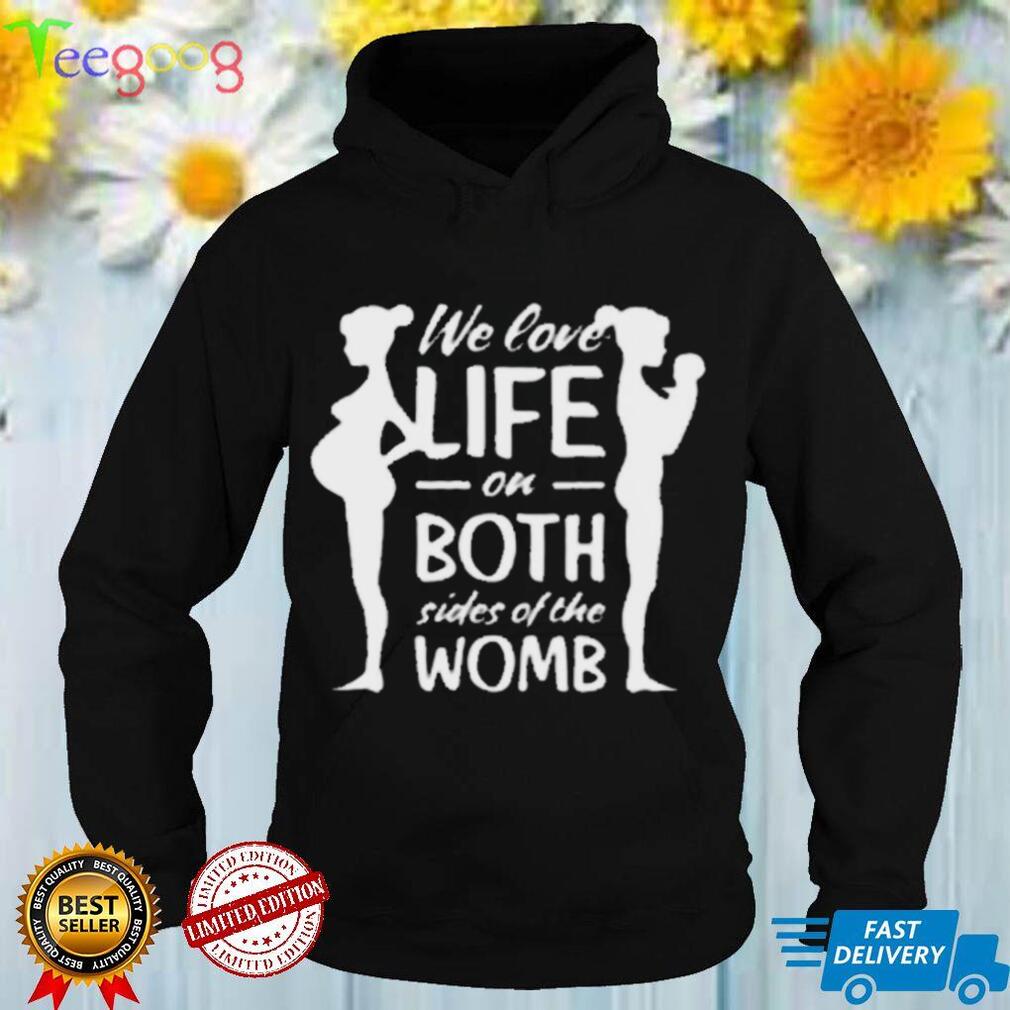 (We love life on both sides of the womb shirt)
The best Christmas memories are from church. There was a We love life on both sides of the womb shirtcandlelight service at our church. When I got older, I was allowed to walk down the aisle and stop at every pew, and the first person seated would light their candle from the big one I carried. When all the candles were lit, the lights would go off, and a hush would always fall over the congregation as we all sat in the dark with our lit candles glowing brightly. We sang all the old Christmas hymns, such as Silent Night, O Little Town Of Bethlehem, We Three Kings, and more. I was always mesmerized as the Pastor told the story of Christ's birth, and usually there was a live nativity made up of real farm animals and little kids playing the parts. There was always a children's time, when the Pastor called the little children to come and sit up front, near the alter, while he told them a story having to do with the birth of Jesus, and gave each kid a candy cane. Christmas Eve services were so great back then. Now there are no candles, just little battery operated lights, and the service is held at either 3 pm or 6 pm, because families are too busy to stay up so late on Christmas Eve.
We love life on both sides of the womb shirt, Hoodie, Sweater, Vneck, Unisex and T-shirt
Best We love life on both sides of the womb shirt
When different Western European pagan cultures were evangelized to, the We love life on both sides of the womb shirt (the traditional Catholic order of missionaries) tried to be mindful of not needlessly erasing new disciples' culture. These disciples only needed to abandon the sinful parts of their culture, to follow Christ. Unfortunately, some of these parts slipped through, effectively syncretizing Catholicism somewhat with these pagan religions—hence, veneration culture; undue fixation on Mary the mother of Jesus; etc. However, the intent at least was always to keep from putting unnecessary burdens on new disciples' backs. These evangelizers were looking out for those they were taking under their wing. In that sense, these peoples' cultures were actually preserved: at least far more than they would have been, were their newly Christian-identifying constituents required to make themselves Hebrew and Greco–Roman. So no, these festivals were not "hijacked." It is merely that masses of people who had once celebrated them decided not to observe them, or their religions comprising them; and decided to celebrate other things, with the guidance and consideration of their disciplers.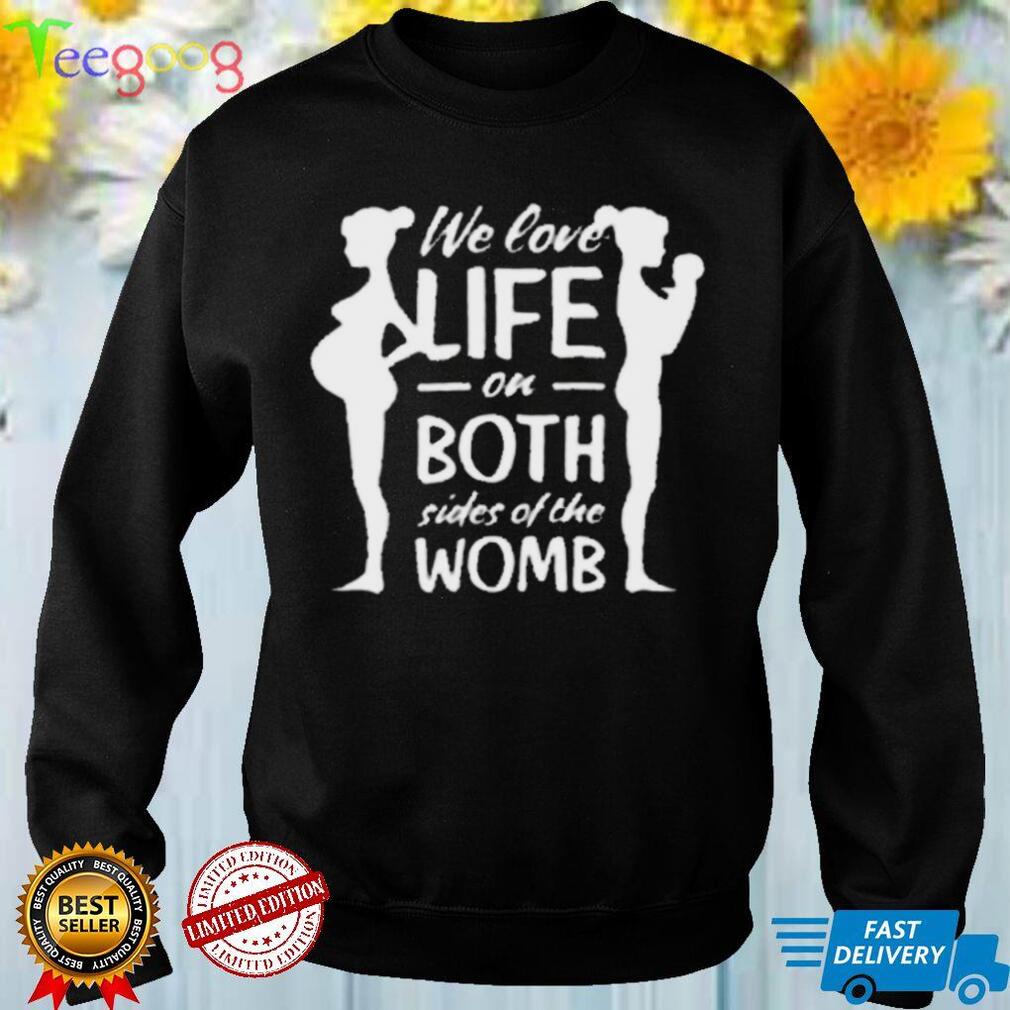 (We love life on both sides of the womb shirt)
The We love life on both sides of the womb shirt mention of December 25 as Jesus' birthday comes from a mid-fourth-century Roman almanac that lists the death dates of various Christian bishops and martyrs. The first date listed, December 25, is marked: natus Christus in Betleem Judeae: "Christ was born in Bethlehem of Judea." In about 400 C.E., Augustine of Hippo mentions a local dissident Christian group, the Donatists, who apparently kept Christmas festivals on December 25, but refused to celebrate the Epiphany on January 6, regarding it as an innovation. Since the Donatist group only emerged during the persecution under Diocletian in 312 C.E. and then remained stubbornly attached to the practices of that moment in time, they seem to represent an older North African Christian tradition. In the East, January 6 was at first not associated with the magi alone, but with the Christmas story as a whole.