Introducing the "You Ladies Alright" Shirt, a must-have addition to your wardrobe that combines style, comfort, and a touch of humor. This shirt is designed to make a statement and bring a smile to your face, while also offering a range of features and benefits that will enhance your overall experience.
Crafted from high-quality, soft cotton fabric, this shirt ensures a comfortable fit that feels great against your skin. Its lightweight and breathable nature make it perfect for everyday wear, whether you're running errands, meeting friends, or simply lounging around.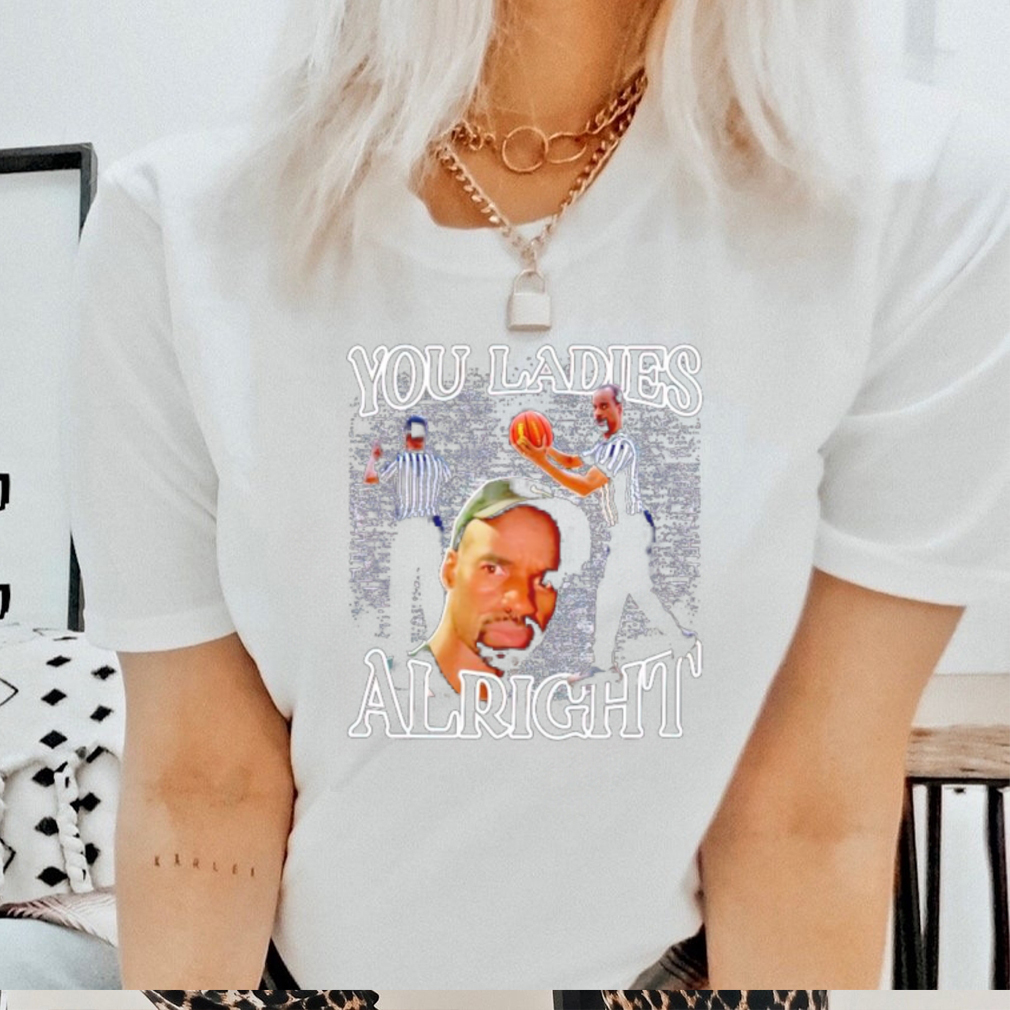 ()
The standout feature of the "You Ladies Alright" Shirt is its unique and eye-catching design. With bold, vibrant colors and a playful typography, this shirt is sure to turn heads and spark conversations wherever you go. It's a fun and lighthearted way to express your personality and showcase your sense of humor.
But this shirt is not just about style; it also offers practical benefits. The classic crew neck and short sleeves provide a timeless and versatile look that can be effortlessly paired with jeans, shorts, or skirts. Whether you prefer a casual or dressed-up ensemble, this shirt effortlessly adapts to your personal style.
In addition to its aesthetic appeal, the "You Ladies Alright" Shirt also offers exceptional value to the customer. It is made to withstand the test of time, with durable stitching and high-quality materials that ensure long-lasting wear. This means you can enjoy wearing it for years to come, making it a worthwhile investment for your wardrobe.
Furthermore, this shirt is available in a range of sizes, catering to different body types and ensuring a perfect fit for everyone. It's a great gift option for friends, family, or even yourself, as it brings joy and laughter to anyone who wears it.
In summary, the "You Ladies Alright" Shirt is more than just a piece of clothing; it's a statement piece that adds a touch of humor and personality to your everyday style. With its comfortable fit, eye-catching design, and exceptional quality, this shirt offers both style and substance. So why wait? Embrace your individuality and spread some laughter with the "You Ladies Alright" Shirt.